My father's kite
In 1940 my father, Michael van der Putten, (1912-04-15 - 2013-11-12) build a large kite and mounted a photo camera underneath.
A picture of my father at his 100th birthday party:


The kite he build as a young man: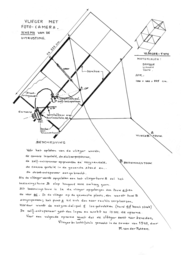 He took images of his parents house and surrounding area in the dutch village of Oegstgeest;



(169 kB)

(112 kB)


(106 kB)

(58 kB)


(54 kB)
(102 kB)


(63 kB)

(95 kB)


(94 kB)

(84 kB)

Click on image for larger picture


All images © 1940, 2000, Fam. van der Putten.
Interview with my father (page 15) (Dutch).